Marketing
October 31, 2020
Social Media: It's Not Just for Branding Anymore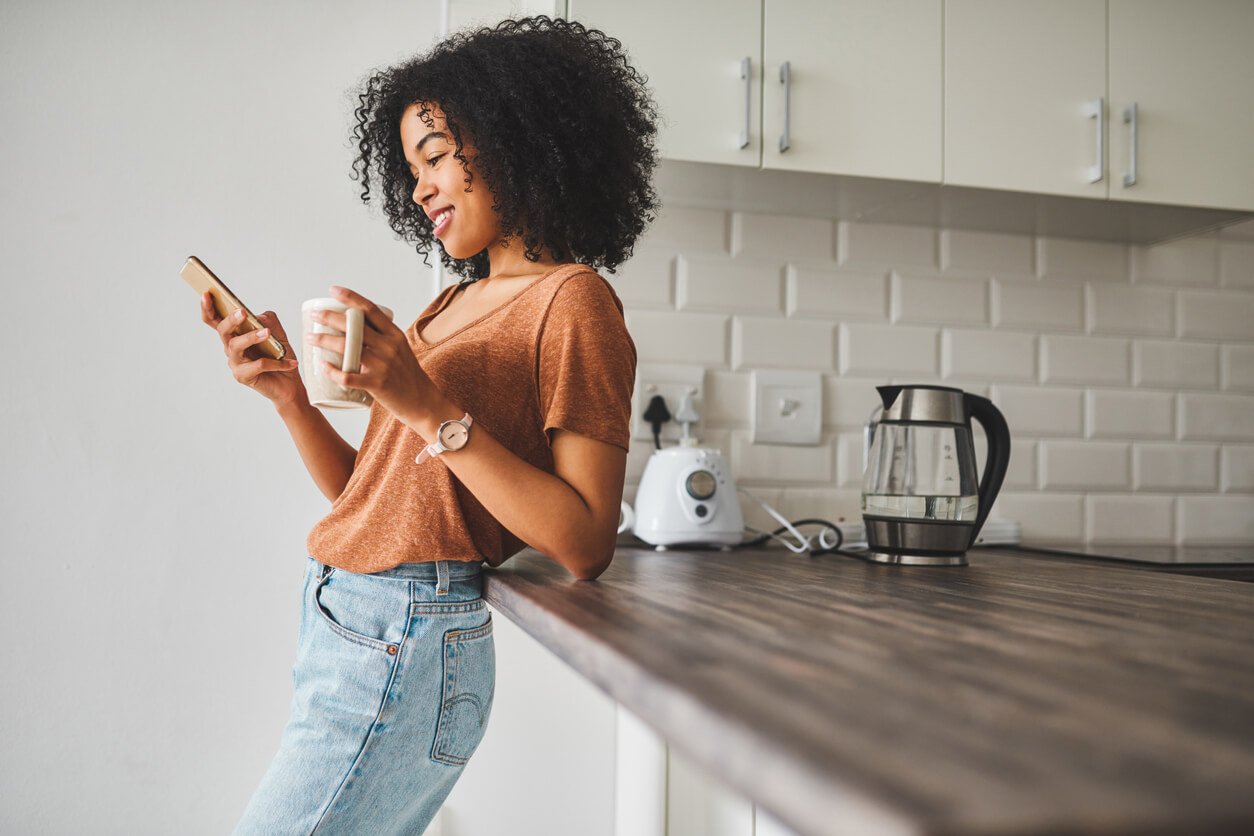 Since its modern digital creation in the mid-1990s, social media has served a number of purposes, from intensely personal to highly professional: To connect with your family. To help find old classmates. To keep up with the latest news. To create online communities. To follow your favorite celebrities. To follow or keep in touch with businesses and companies.
As of January 2020 there were 3.8 billion social media users worldwide, so it's no surprise that while people flocked to various social media platforms, so did businesses. But how the business world now views — and uses — social media is much different than it was more than a decade ago when Facebook, Twitter and other platforms gained traction.
The Evolution of Social Media for Business
Originally viewed as a tool to promote positive company branding, social media for business really took off in 2008. With the massive number of people on social platforms, it provides a unique outlet where you can actually meet your customers where they are.
Facebook
Facebook remains one of the most-used social platforms for companies of all shapes and sizes. When it launched in 2004, the platform was limited to college students and lacked the tools necessary to drive business success.
It did not have paid advertising. It had not developed its famed News Feed. It simply provided a digital "wall" on which college students could post updates.
As it grew and searched for ways to monetize itself, Facebook began to add business features that forced companies to consider spending money in a new way.
Facebook Pages, added to the social media powerhouse in 2007, didn't gain traction until 2009 after the growing digital pioneer made essential updates to its capabilities and advertising solutions.
By 2011, more than three million companies had a Facebook Page, and their collective investments in the platform continued to grow.
Twitter
Originally known for 140-character post limits, Twitter launched in 2006 as a microblogging service with little to no limitations as to who could join. Users included businesses, celebrities and everyday people (like me!)
Businesses and future influencers based their Twitter success on their number of followers, a metric we now know pales in comparison to metrics such as tweet impressions or engagements.
Why? It all relates to the age-old debate of quantity versus quality. Having a large number of followers who fail to engage with the content you're posting isn't nearly as effective as a smaller number of followers who actually see and engage with your tweets.
After changing how we measured success on Twitter (and other social platforms), we began to rethink how or what we were posting on each channel. Successful businesses began to take a more authentic approach to their organic social media in order to promote follower engagement. As a result, social media became one of the prime methods of communicating news updates.
In many audiences, Twitter overtook Facebook as the medium for sharing breaking news, and not just for media outlets. Pro athletes gave their fans updates before newspapers and ESPN did. So did businesses. As did law enforcement agencies. Even politicians came on board.
All of them realized they could promote the message they desired, with the tone and verbiage exactly as they wanted, directly to the outside world without the curated filter of a news feed.
LinkedIn
Launched in 2003, LinkedIn was developed as a way for professionals to create a digital resume highlighting their job history, skills and qualifications. Rather than adding friends or following other users, LinkedIn is set up to help business professionals build "connections" with other professionals. Users can see their direct connections as well as those within a degree or two of their current network.
This type of networking can help people and businesses in numerous ways:
Job seekers can search for great companies as well as apply directly for new jobs.
Recruiters can locate top talent in their area.
Professionals in similar roles can connect and share knowledge regarding tools, strategies and other insights.
Businesses can promote their B2B service offerings directly to related business professionals.
Of course, as social media evolved, so have the many ways it can be used to drive business success. Almost every company, small or large, uses social media to promote themselves and their goods and services.
Others, though, are looking to elevate their customer communication. They want to leverage social media as a key part of their sales processes. More and more, likes, clicks and retweets are getting sales metrics attached to them.
Driving Business Growth
The benefits of social media for business are most evident when company executives can correlate with improvements to targeted key performance indicators. For many marketing teams, those KPIs include website traffic, leads and, of course, number and size of sales.
From an organic social media perspective, the goal remains the same as it did when social media first began: Build meaningful relationships with others and add value to the relationship with the content you create and share.
One aspect that is different today than when social media platforms were in their formative stages is advertising. A decade ago, paid ads barely existed on Facebook and other platforms. Now, paid ads not only flood the bank accounts at Facebook (and LinkedIn to a degree), they represent a key marketing strategy for many brands. In fact, the amount companies will invest in paid social advertising is expected to continue growing this year and next.
At the beginning of 2020, eMarketer estimated that U.S. advertisers would increase social network ad spending 20.4% throughout the year. Of course, this was before the COVID-19 pandemic. But if you look back at the continual increase in advertising spending despite the decreased – albeit still successful – return, it's not far-fetched to expect advertising spending to increase next year, even with the continuing pandemic.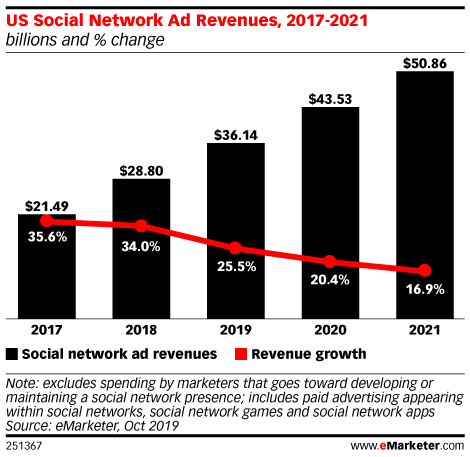 Source: eMarketer
The use of paid advertising on social media elevated the number of business opportunities available. Nearly every social media platform has advertising options, which can be used to accomplish a variety of goals. In general, social ads provide a relatively inexpensive way to promote your products or services and to distribute your content.
One thing to keep in mind: The key to any successful social media plan is the combination of both organic and paid social strategies, as together they can amplify the overall impact of your efforts.
Improve Brand Awareness
Even though more and more companies see the potential for social media to generate clients, customers and sales, building and maintaining brand awareness remains a key role for a business's social media play. With so many people using social media, it's a natural place to ensure your organization has a presence.
Word-of-mouth is a powerful conversion tool, and with reviews and recommendations available on many social media platforms it's easy for people to ask their friends for referrals directly on their profiles. This kind of reputation management can help your brand look good as you grow your follower base.
In addition, paid social ads can help you connect your target audience with your brand. According to a 2020 Hootsuite study, 27% of internet users say they find new products and brands through paid social ads. Once someone has started following your brand, they'll start to see your organic posts, which means you can work to build your relationship without the extra spend.
Increase Website Traffic
Social media posts and paid click-to-website ads are key ways to increase site traffic. By maintaining a consistent post schedule and encouraging social shares, you can drive a steady stream of visitors to target pages on your website.
Once on your website, visitors have the chance to get to know your brand, read more of your content and ultimately convert through one of your forms.
Thanks to tracking tools such as UTMs, marketers can pinpoint the exact post or ad that brought the visitor to their website. This can tell you a lot about what information is actually relevant to your users. It can help improve your content and help inform what you should be posting on a more frequent basis.
Generate Leads
Perhaps one of the easiest ways to highlight the return on investment of social media is the direct impact it can have on lead generation and conversion.
By simply posting about your products and services you can boost conversions because you're advertising to people who chose to "like" or follow your company account. They're already familiar with your brand, so you can tailor your messaging to further that relationship and hopefully take it to the next level.
Social lead ads are a great option for those with a paid budget, especially because users don't have to leave the social media platform to submit their request. Facebook, Instagram, LinkedIn and YouTube all have dedicated ads for lead generation. You can still use platforms like Pinterest and Twitter, but those won't work the same way.
Want to get creative? Try offering something different on social that you haven't offered on your website. Create a piece of gated content — an article or paper that's only available if visitors fill out their contact information first. You could send the article out via email, but at the same time, ask if they want to subscribe to your newsletter for other relevant industry news.